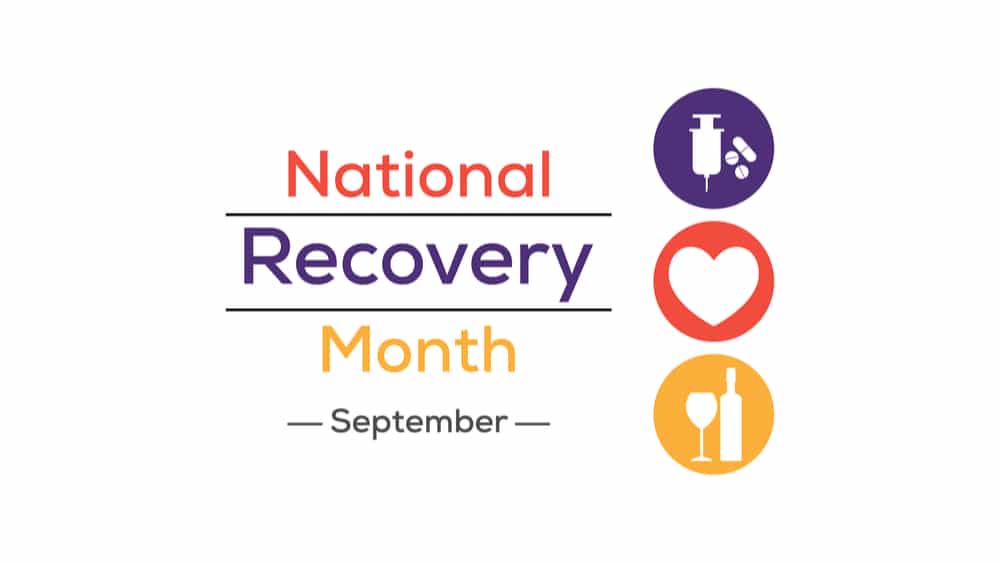 With September being recognized as National Recovery Month, it is a time to reflect on the gains that individuals who have previously struggled with addiction and mental health issues have made in their journeys to recovery.
In addition, it is also a time to spread awareness on the extreme impacts that drug and alcohol addiction and mental health disorders have on millions of individuals worldwide. In fact, many people suffer from what is known as a dual diagnosis, where they may turn to addictive substances or unhealthy behaviors due to mental health disorders they are struggling with.
For the loved ones of those struggling with addiction, education is key to provide sufficient support and resources during their treatment process.
Celebrating Connections for 2020's National Recovery Month
Often, there is a stigma that comes along with the word "addiction". This is one of the reasons why September was designated as National Recovery Month over 20 years ago – to break this stigma and educate the public on the various aspects of addiction and mental health.
Celebrating Connections is this year's theme for 2020's National Recovery Month in order to emphasize the importance of both support systems and spread awareness for addiction, abuse, and mental health disorders.
As part of National Recovery Month, there are four key components surrounding aspects of awareness that remain focal points:
Behavioral – When you think of wellness, most people tend to think of their physical well-being. However, mental health and behavioral health are a critical part of one's overall health and well-being. This includes aspects such as psychological and emotional well-being as well. Many times, people will turn to addictive substances or harmful behaviors to deal with their declining behavioral wellness.
Prevention – In order to prevent alcohol and drug abuse or addiction, it is essential that individuals are educated and informed on the various addictions, disorders, treatments, and programs. This allows a person to make an educated decision on what his or her next steps may be based on factual information and evidence-based studies and research.
Treatment – Initially, those struggling in these areas were hesitant to seek treatment because of the negative stigma with addiction and mental health disorders. However, over the recent years and advancements made within treatment programs, more and more individuals are getting the help they need to live an addiction-free life. Each individual has a different treatment plan based on his or her needs and requirements. These success-driven treatment plans are created by professional, licensed, and experienced rehabilitation facilitators.
Recovery – There is no doubt that treatment works when the commitment and effort are there. Millions of individuals all over the U.S. have grown to live a healthy life of sobriety after completing their respective treatment program and following any aftercare, such as outpatient programs, group meetings, counseling, and so on.

The Importance of Recovery
The organization Faces & Voices of Recovery is a non-profit that advocates for recovery and treatment.
They have put together a website that provides a range of tools and resources for users to download in support of National Recovery Month.
With the pandemic that has completely shaken up the world this year, recovery is now more important than ever. Increased use of drugs and alcohol has significantly climbed due to COVID-19 with more people stuck at home – potentially causing an uptake in urges and triggers to use. Because of this, loved ones must be able to provide effective support for those struggling with addiction and mental health disorders.
We are also seeing an increase in substance abuse and mental health issues with teenagers and adolescents in the U.S. It is crucial that the public is well-informed on the dangers of addiction and undiagnosed mental health disorders, so we can do our part to support our youth and prevent further harm from occurring.
By spreading awareness on addiction and mental health, we are helping to break the stigma for those that require inpatient treatment or outpatient treatment to improve their quality of life.

You Have Our Support & Encouragement
No one should have to go through addiction alone.
At North Jersey Recovery Center, we are here for you no matter what type of struggles you may be dealing with. Whether you are located in Manhattan, New York City, Newark, Clifton, or the surrounding areas. If you are looking for an addiction treatment center in the Northeast, we are here and ready to help as we take in those struggling with addiction from all over the United States.
If you or a loved one is struggling with heroin, cocaine, pills, alcohol, or another type of substance addiction, our professional team of rehab facilitators offers a clinical approach to help you during your path of recovery. Give us a call today at 800-741-3300.
From group sessions to one-on-one counseling to proper medication, we are here to provide you with the support and resources you need to regain control of your life.
Let treatment do its job and help you move on to a better, healthier, and happier life.