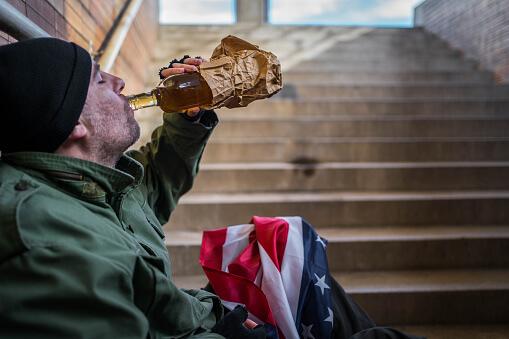 Both addiction and mental health issues continue to be a problem for our nation's veterans. As we draw closer to Memorial Day and then Veterans Day, which are dedicated to their service and memories, one of the most profound things we do as everyday citizens is thank them for their service. While it's well-intentioned, having good intentions is not always enough to help someone who is plagued by both physical and mental turmoil. In fact, as unfortunate as it is, many veterans view this as a shallow substitute for real support and action. Who better to know this than our team of clinical professionals with North Jersey Recovery Center?
Our addiction treatment specialists in Bergen County NJ and the surrounding areas  are cognizant of the behemoth of a big world that many veterans are overwhelmed by, when completing service, often contributing to their addiction and mental health decline. Today, we would like to address the topic–Veterans And Addiction: Are we doing enough to help our struggling vets?
Focusing On Addiction And Mental Health Issues Amongst Veterans
When all the excitement dies down from the parades and all the confetti is cleaned up, what's left are thousands of military veterans who are struggling with addiction and mental health issues who are not receiving adequate treatment.
Don't believe us? The facts certainly back up what we are trying to depict. See for yourself:
About 15% of military veterans struggle with past-year substance use disorder (SUD)
10% returning Iraq and Afghanistan War Vets struggle with alcohol or drug abuse
20% of military vets with PTSD also have SUD
30% of military suicides are preceded by either alcohol or drug use
20% of high-risk behavior deaths amongst military vets are attributed to alcohol or drug overdose
About 30% of military vets report past year illicit drug use.
More than 68,000 vets are currently addicted to opioid painkillers
Opioid addiction amongst vets has doubled since 02'
Vets who abuse painkiller are more than 5x more than likely than those who don't to use heroin
Before, During, And After: Here Is What "Service" Can Mean
Combat-related physical and psychological trauma is one of the main causes not only of mental illness, but also of alcoholism and painkiller addiction as well, further demanding the need of intervention from addiction treatment specialists in Bergen County NJ. The decisions our servicemen and women have to make in the chaos of battle and the aftermath of these choices, can lead to seemingly endless, year-long struggles with mental illness and addiction. Veterans are also faced with a wide array of adverse circumstances off the battlefield, which can exacerbate mental illness. These issues are numerous and include issues finding employment, trouble funding continuing education, or something more abstract. Much of this turmoil is born through the circumstances that were placed on them the moment they enlisted, until the moment they were discharged from duty. Getting to the root of these issues is imperative for developing and allocating resources for intervention and treatment.
What Do These Resources Look Like?
Our team of addiction treatment specialists in Bergen County NJ and the surrounding counties can attest to the fact that resources and treatment for veterans has improved in more recent years. Despite this obvious upward trend, there are still thousands of veterans unwilling or unable to accept help. Although the Department of Veterans Affairs offers a robust network of treatment resources, economic barriers, lack of personal support systems, and other varying factors make it arduous for some than others. The lack of access is linked to higher rates of suicide and other serious issues. The waiting period could drive many to cling to the substances that we are so desperately trying to get them to kick. That is why going beyond the thank you holds so much more weight for our current and former servicemen and women.
Going Beyond The Thank You
From the earlier section, we stated that thanking veterans for their service certainly holds weight in its own right. It becomes a problem when these platitudes are juxtaposed with insufficient support from the civilian population. More often than not, several are made to feel uncomfortable by this gesture. Veterans need comprehensive solutions for their issues. Words, in this case, mean nothing on their own. A lack of inaction can do more harm than good. Let's discuss which treatment options act as viable solutions for fighting addiction.
Addiction Treatment Options
The following are the varying treatment options that North Jersey Recovery Center offers to its patients:
Dual Diagnosis: If a person has a co-occurring mental health issue coupled with a substance abuse problem, this falls under the umbrella of dual diagnosis, which simultaneously treats both ailments in the patient.
Intensive Outpatient Program: IOPs or intensive outpatient programs, offer ambulatory services for patients with addictions who don't meet the diagnostic criteria for residential or inpatient treatment.
Evening Intensive Outpatient Treatment: The evening intensive outpatient treatment focuses on utilizing the family as a support system for sobriety from opiates, drugs, or alcohol. In the evening, patients attend regular meetings, with others enduring the same struggle.
Outpatient Programs: Outpatient treatment is simply a recovery plan that works well for those who find the non-residential treatment option more convenient than that of inpatient options.
Addiction Treatment Specialists In Bergen County NJ: Giving Back To Those Who Need It The Most
Veterans clearly need our help, and we owe it to them, on account of all they have sacrificed for our country. North Jersey Recovery Center offers many treatment programs to assist those who want to embark on the road to recovery. To see how our addiction treatment specialists in Bergen County NJ can lend a helping hand, contact us today to move ahead with the next steps!