What is Drug and Alcohol Detox?
A drug or alcohol detox is the process of eliminating substances from a person's body. The reality of detox is different for everyone. Withdrawal symptoms can take a few days, or it can be a lengthy process. The detox process is the beginning of the journey towards sobriety. North Jersey Recovery Center does not offer detox however our treatment specialists can recommend you to an accredited detox program in New Jersey. 
Detoxification success is dependent on when the individual begins the program if they stay on the program, and if they are obedient to the protocol. Individuals who do this are the most successful in the detox journey.  Detoxing from substances is very complex. Stopping the use of substances cold turkey can be dangerous. 
What Factors Determine the Detox Process?
The actual detox process depends on several circumstances, such as:
The detoxing process depends on if the person is using drugs or alcohol. 

How long the person has been addicted to that substance.

The process will also depend on how complex and severe addiction is.

Additionally, if the person is abusing more than one substance at the same time.

Does the individual have a mental health issue that needs to be taken into consideration?

If there is a history of family members using drugs is another factor.

Another major determinant is if any medical issues need to be addressed.
What are the Options for Drug and Alcohol Detox?
Medical enhanced detox programs take place under medical and mental health care. This is the safest way to detox. 

Social detoxes are not done under medically assisted care. This process is usually for less severe withdrawal symptoms.
Another option people use is anesthesia. In some severe instances with severe withdrawals, individuals may decide to go under general anesthesia. The thought process on this is that the individual will go through the drug or alcohol withdrawal symptoms while under anesthesia. This can cause a whole set of different problems.  
What Medications are Used During Detox?
There are times when medications are needed during medical detox. The use of medication is used to ease the complications of withdrawals. Not everyone is addicted to the same substance, so not everyone gets the same kind of medication. The medication required is dependent on the substance that was abused and the severity of the withdrawal symptoms. 
Some medications that may be used to help with painful withdrawal symptoms and drug cravings include:
Buprenorphine

Probuphine

Methadone

Naloxone

Naltrexone

Disulfiram

Acamprosate
Detox and Withdrawal
Detoxing is an essential part of the care program; the first step in the recovery journey is detox. This is the body getting rid of the harmful toxins following substance abuse. Your nervous system and brain are altered on drugs and alcohol. This alteration affects withdrawal symptoms. Withdrawal symptoms can start to appear within several hours after the last drink or use of the drug.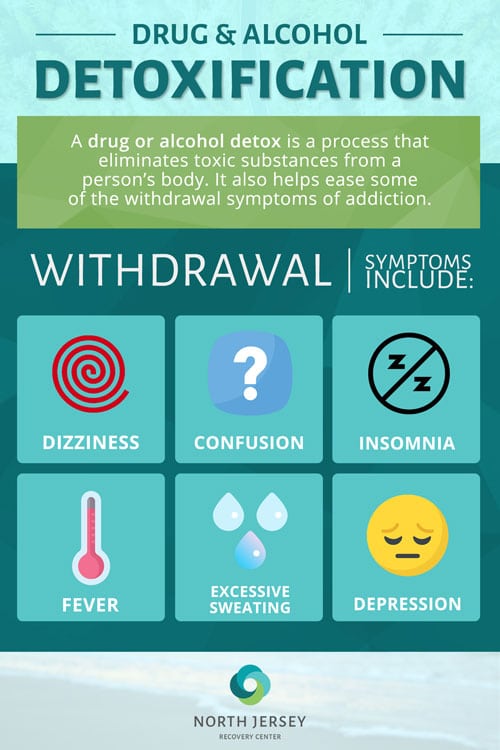 The withdrawal symptoms can be mild to severe. The more severe withdrawal symptoms may start within 48 hours of the last drink or drug use. Some substances have withdrawal symptoms that may be potentially life-threatening. Therefore, medical supervision is always recommended. Symptoms can last up to several weeks, and in severe cases, they can last months.
Some of these symptoms include:
Dizziness

High Fever

Confusion

Abdominal issues

Aching body

Sweating – more than usual 

Chills

Anxiousness

Insomnia

Rapid heartbeat

High blood pressure

Hallucinations

Shakiness

Being disorientated

Feeling depressed

Seizures

Nausea and vomiting 
With some of these symptoms, physician care might be necessary. If severe symptoms arise, call a professional immediately. 
Examination for Detox 
Before a detox program, you should receive a pre-treatment assessment. This process will also determine if you can detox out home or need a detox treatment center or hospital. A physician or mental health professional may ask a series of questions. Some of these would include:
How long have you been drinking or using drugs? This will help determine whether you will need extensive treatment or treatment in a supportive home environment.

Is there a family history of alcohol or drugs is another initial exam question. This will also determine if you would have a supportive outside peer group to help you through this time. 

When was your last drink or substance? This will help the professional know if you are going through the withdrawal symptoms yet or how close the symptoms will start.

Have you gone through withdrawal symptoms before? If so, how severe were the symptoms?

What is the substance being abused? This will help determine the withdrawal symptoms.

What is your health condition? This will help determine if a person needs to have care?

What is your mental health status? This also will help determine if a person needs to have care with a psychiatric professional.

The physician and the psychiatric professional need to know if there is a co-occurring diagnosis.
Detoxing at Home
If you choose to detox at home, it may be more comfortable, but it is imperative to have the right atmosphere. While detoxing from alcohol or drugs, you or a loved one may want to have limits on personal interaction. You may also want to choose only people who will be supportive of you or your loved one during this time. It is crucial to find a serene and quiet place that is very comfortable. The lights you want to be soft and soothing. Eating healthy and drinking lots of fluids will also help during your detox. If your symptoms get worse, seek medical help right away.
If you choose to enroll in an outpatient detox program, you will receive professional guidance right from your home. An outpatient detox program can help you detox and even offer guidance on how to manage cravings and withdrawal symptoms.
Good Reasons to Detox From Drugs and Alcohol
The effects of substance abuse and mental health issues on the body and brain are detrimental. Abuse of substances can have adverse effects on the heart, liver, and brain. Detoxing and getting on a program to help stop the abuse is essential. Long-term abuse can cause brain damage, as well as damage to many of your vital organs. 
Some of the reasons that addiction cause brain damage is:
The brain tissue is unable to absorb nutrients.

Necrosis of the brain cells can happen.

Alterations of brain chemicals and hormones can occur.

Oxygen is unable to get to the brain tissue.
In addition to medical complications, both drugs and alcohol have psychological effects. In addition, the effects can be fatal.
Detoxification Process
A detoxification process is usually a three-prong approach. The initial approach is the examination. This is where blood tests are taken, and medical history is recorded. This will help determine what drugs and alcohol are in the blood. This will also help determine how much of the drug or alcohol is in the blood and if there is more than one substance.
The following process is to balance or have the patient become stabilized. The success of detoxification depends not only on the stabilization of the patient but also on the withdrawal process is safe and effective for the patient. Sometimes the patient must be prescribed certain medications to help the patient through the withdrawal process. The medicines help with the withdrawal symptoms as well as avoiding complications. Psychiatric care is also introduced to help the patient during the detoxification process.
The last phase of the process is to prepare the patient for therapy. The physician or psychiatric professional will help decide what the best program for that individual is. They will also go over the details of the program and let them know what to expect. 
What's Next After Detox?
Once detox is complete, it's time to determine the best treatment option for you. Detox alone does not cure your addiction; it only breaks you free from physical dependency. There is much more to the alcohol and drug addiction treatment process. 
To determine your best treatment option, you will speak with someone to assess your psychiatric and medical conditions. Ultimately, it is your decision what type of treatment you prefer. You will have a few options that can find your personal goals and schedule. 
Partial Care Program
This type of treatment is more for individuals that are also dealing with a co-occurring condition. It is less intense than inpatient treatment but does offer a more structured environment than outpatient treatment. With partial care, you will receive additional support that is not available in other programs. 
Outpatient Treatment Program
An outpatient program allows much more freedom in your recovery. You attend therapy around your work or school schedule. This means you can recover while in the comfort of your own home. Generally, this treatment option is more for milder cases of addiction. 
Intensive Outpatient Program (IOP)
IOP is a great middle option for those who have serious obligations but still need a treatment provider. Generally, patients have the opportunity to live at the facility or stay at home. Most programs are between 9-20 a week. However, IOP programs are very tailored to meet an individual's needs.
Post Recovery Care
Post recovery care includes group meetings and other programs involving the 12-step support process. Providing continued support to all clients. Some support groups in New Jersey include:
North New Jersey Alcoholics Anonymous (NIJAA)

Central Jersey Intergroup (CJI) Alcoholics Anonymous chapter

South Jersey Intergroup Association (AASJ) Alcoholics Anonymous Info.

Southern New Jersey AA General Service (SJ Area 45)

NA in New Jersey (NANJ)
For More Information About Treatment Options
At North Jersey Recovery Center, we do not offer detox as part of our treatment process. However, detoxing is your first step towards sobriety, and recommend you find an accredited facility that can assist. After detoxing, a great treatment program is essential for success. After you or your loved one completes detox, you can join an inpatient or outpatient program for continued recovery. To find out more information on the programs we offer here at North Jersey Recovery, please contact us and start your journey to success.