Eye Movement Desensitization and Reprocessing therapy (EMDR therapy) is a widely used technique to help those with addiction. EMDR therapy is also used to treat cases of post-traumatic stress disorder (PTSD). It is a relatively new treatment option, but it has been proven to help in drug abuse and addiction cases.
Specifically, EMDR for addiction can reduce some of the negative effects that come with drug addiction. This type of therapy also reduces the overall chances of relapse as well. EMDR therapy is a great option to match with other treatment options. 
Eye movement desensitization and reprocessing therapy may not be right for everyone, but it is worth considering. If you or a loved one are struggling with drug addiction, we are here to help. North Jersey Recovery offers comfortable and trusted treatment for you and your loved ones.
What is EMDR?
Eye movement desensitization and reprocessing (EMDR) is a type of therapy that focuses on visual stimulation. In cases of PTSD and addiction, EMDR therapy seeks to help the person's trauma. Research shows a connection between a person's eye movements and traumatic memory (similar to REM sleep).
During the process, a person is asked to recall these traumatic memories while at the same time stimulating their vision. This helps reprocess (how it's stored) the memory and reduce some of its effects on the person. While EMDR is used for some mental disorders, it can also be used for addiction cases. 
EMDR therapy has been proven to heal traumatic events, reduce negative reactions and other triggers. This type of therapy occurs in 8 phases, focusing on the person's past, present, and future (specifically about the traumatic event or addiction).
A Closer Look at EMDR for Addiction
EMDR therapy is an option that is typically overlooked (because of its availability). While no one really knows why EMDR affects the brain the way it does, this type of therapy can still be a useful option. Strangely, these eye movements can reduce some of the feelings that stem from traumatic or emotional memories. 
Some studies and cases of post-traumatic stress disorder and abusive relationships show a positive transformation after EMDR therapy. PTSD has also been shown to correlate with drug addiction (co-occurring disorder). In cases like this, it is best to treat the addiction at the root to avoid relapses down the line and push towards full recovery. 
While this type of therapy sounds like an easy treatment option to do at home, it's better that you don't attempt it alone. This treatment involves talking about traumatic or intense issues and memories. These can trigger certain feelings and emotions (erratic behavior), leading to worse consequences (including relapse). It's important to stick with medical professionals like our North Jersey Recovery Center team to get the most effective level of treatment.
EMDR Therapy and
Addiction
In many cases of addiction, there is usually some past trauma associated with it. The idea is to heal and overcome this past trauma, so the person has less reason to turn to drugs. Looking for this root cause can make a world of difference in the long run (even after treatment).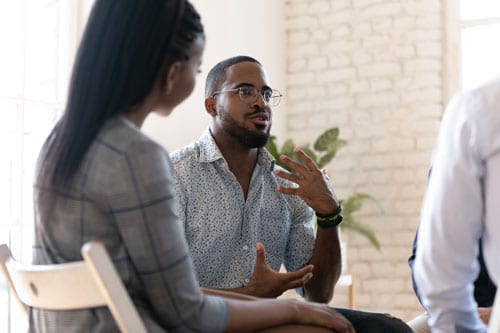 In many cases of substance abuse disorder, there is some sign of PTSD as well. This makes EMDR therapy an effective choice for the person to heal both addiction and traumatic experiences. EMDR therapy may not work for everyone, but it is a great option for PTSD and drug addiction cases. 
Treating Addiction Memory
What many people don't know about addiction is that sometimes it's not a matter of choice. There are cases where people are given a certain drug for a physical injury (such as opioids). From here, a person can fall into addiction without even knowing it (or even wanting to). While EMDR won't help them much, a person can still get help with addiction memory. 
Addiction memory is defined as a memory of the loss of control or a drug-induced memory of the specific drug's effects on the person. This particular memory can result in continued drug-using behavior and can halt the recovery process.
Again, EMDR therapy can ease some of the feelings from a memory. EMDR can also work the same way for addiction memory as well. By incorporating this type of therapy into regular treatment, the person's chances of long-term recovery go up substantially.

The 8 Phases of EMDR Therapy
As mentioned, EMDR therapy uses 8 different phases to focus on a person's past, present, and future. During the process, skills and attitudes are discussed for future improvement and positivity down the line. Let's take a look at each of the 8 steps associated with EMDR therapy.

Phase 1 
Phase 1 is the starting phase that lays out a development plan. The person and the therapist identify specific targets for EMDR processing. In this case, targets are past traumatic memories or present-day issues that are causing stress. After this is discussed, a plan is set up for the person. EMDR for addiction may focus on childhood traumas as opposed to adulthood stressors. 
By understanding the situations and working towards changing their behaviors, a person can begin to heal. The overall length of treatment is based on how many traumas the person has had and at what age they occurred. EMDR therapy for adults with just a single event can be treated in under 5 hours. 
Phase 2
The second phase of EMDR therapy consists of how to handle emotional stress. In this phase, the person can learn several stress-reducing techniques that can be used during and between sessions. EMDR therapy's goal is to create a fast and effective change in a person. 
Phases 3-6
In phases three to six, EMDR therapy procedures are used to identify and process a target. During these sessions, a person identifies: 
A negative belief about oneself

A vivid visual image (concerning the traumatic memory)

Relative emotions and bodily sensations
Additionally, the person attempts to identify at least one positive belief. During these processes, the person focuses on the image, the negative thought, and the bodily sensations while engaging in EMDR therapy (which is done using bilateral stimulation). This particular process includes eye movements, taps, or tones (depending on the person). 
This set of phases continues with the therapist letting the person's mind go blank and grappling on to any feeling, thought, or memory that comes to mind. This helps the clinician choose the next target of focus. This process is repeated multiple times and is taken at a controlled pace. 
Phase 7
Phase seven is a wrap-up phase. The person is instructed to keep a log throughout the week. Here they should log in to any related situations or material that may arise. This is meant to remind the person of self-calming activities taught in the second phase of EMDR. 
Phase 8
The eighth and final phase examines the progress that has been made so far. EMDR treatment analyses all related events, incidents in the present that are causing stress, and future events requiring a different response. 
Other Information on EMDR Therapy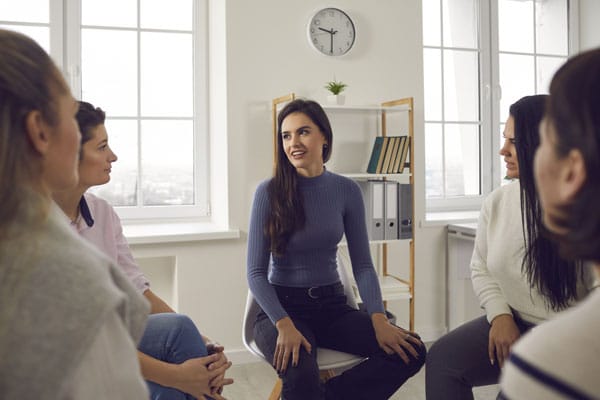 EMDR therapy is a unique process that has continued to show success in people suffering from PTSD and substance abuse. Additionally, more information might help see if this kind of therapy is right for you.
There is no need for medication when it comes to this therapeutic approach. The entire process only relies on the use of visual stimulation along with the therapy aspect of EMDR. This is great for people who do not take well to medication or for those who might abuse medication. When it comes to equipment, most therapists use a pen. Some equipment is used for the process, but it is not required to have successful treatment. 
Due to its simplicity and effectiveness, EMDR therapy is a great option for those struggling with addiction and past trauma. EMDR therapy, in combination with other treatment choices, is a great way to get solid treatment. North Jersey Recovery Center offers this type of therapy along with many other treatment options.
Other Treatment Options for Drug Addiction
Drug and substance abuse can have many negative effects on you and your loved ones. EMDR therapy is just one of the many treatment options available to you. Generally speaking, there are a variety of commonly used treatment options and techniques that are used. At North Jersey, we'll be by your side no matter what treatment option you decide is best for you. 
Common drug addiction treatment options include:
Get Help Today at North Jersey Recovery Center!
If you or a loved one struggles with drug or alcohol addiction, it may be time to get help. North Jersey Recovery Center is here to give you the best treatment for your addiction. We provide EMDR for addiction along with many different therapy options. Contact us today to learn more about our facility and resources.