There are several different forms of therapy that are used to treat cases of drug and alcohol addiction. The goal of most of these therapies is to help people cope with and address their thoughts and behaviors while pushing for positive change. One of the more unique forms of therapy is contingency management (CM). Contingency management focuses on rewarding and offering incentives to those recovering from addiction. Having a reward system to keep individuals going has been proven to be a surprisingly effective form of treatment. 
Certain goals and benchmarks are created for each person with the goal to remain sober and clean of drugs. Additionally, a person is rewarded for making positive changes to their day to day life. These changes and positive behaviors can come in many forms and end up yielding a reward in the process. Having a reward to signify your accomplishments can be a great and inspiring experience that replaces the need to use drugs.
At North Jersey Recovery Center, we make sure that your recovery experience is comfortable and effective. No matter how hard things may appear to be, there is always light at the end of the tunnel. You and your family deserve to live a better, happier life. At the end of the day, the biggest reward will be a happy life free from the chains of addiction. 
A Closer Look at Contingency Management for Addiction Recovery
Contingency management offers rewards for completing benchmarks, following through with therapy sessions, maintaining a positive/drug-free lifestyle, and other achievements. An incentive and a reward system can be extremely useful in drug addiction treatment cases. Positive reinforcement can push a person to enact positive and consistent change while being rewarded for it.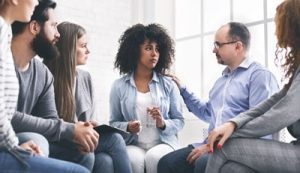 This approach has many different benefits when it comes to drug addiction treatment. This is especially true in cases where a person can't take certain medications (for addiction) or have a low rate of success with medication treatment. When contingency management is used with other addiction treatment types and with medication (if possible), contingency management can improve treatment retention. It can also have a positive effect on a person's sobriety and recovery chances in the future. 
Contingency management uses the idea that as humans we are always seeking rewarding experiences. Ironically, this is what drives many people towards drugs and substance abuse – a sense of pleasure and reward. Turning to substance abuse for pleasure and reward can end up being a crippling situation for the person.
However, in a therapeutic and rehab environment, contingency management uses this idea of reward through positive reinforcement. No matter how big or small the achievement, rewards can help us continue pushing forward (whether it be continuing treatment or simply making a small change). 
Creating Goals
Contingency management is used on the basis that a person strives to meet certain goals. These goals are set on a case by case basis. These goals typically involve achieving negative urine tests, breathalyzer tests, attendance goals, and other smaller social goals. By using positive reinforcement, patients are encouraged and motivated to meet their goals. If a person fails to meet these goals they won't receive the reward (vouchers, prizes, and in some cases, money). This thought alone can help a person stay on track. 
Providing Positive Rewards Through Contingency Management
When someone uses substances or drugs, the reward centers of their brain produce dopamine. Dopamine is a neurotransmitter that's in charge of rewarding and pleasurable feelings. This neurotransmitter also creates the euphoric high and 'buzz' that people tend to get when they abuse drugs. People tend to try recreating this feeling the only way they know how: using the drug again. This can end up leading to tolerance (needing more of a drug to get its effects) and addiction.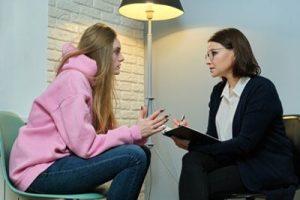 In the early stages of recovery, a person may have urges or temptations to feel these rewarding effects again. This can cause several problems for the person and can lead to relapse if the person is not careful. One of the major parts of addiction treatment is getting a person's thought processes back to a healthy and positive level. During treatment, a person will find healthier ways to achieve the same rewarding sensations without using drugs. This can sometimes be an uphill battle since addicts tend to have trouble experiencing pleasure while sober. 
This process of achieving pleasure without using drugs is kept in mind during contingency management. Contingency management can help a person appreciate non-substance related rewards/pleasures. Over time, this program can actually encourage healthy behaviors, abstinence, and can boost self-confidence in the process. 
How Does Contingency Management Work?
First, a person's goals are established and agreed upon. This is typically put into a written contract. This helps a person stay accountable for his or her goals while outlining the specifics of the CM program. Slowly but surely, these goals are checked from time to time and if a person hits their goals they will give a reward. These rewards and incentives vary depending on the rehab center. Typically, these rewards are worth reaching and give the person a sense of satisfaction and joy. 
What Are the Rewards for Completing Your Goals?
There are usually two commonly used forms of incentives or reward systems: voucher-based reinforcement and prizes. Both have been proven to be viable options for addiction treatment and retention. Let's take a closer look at each of these systems. 
Voucher-based Reinforcement: Voucher-based reinforcement works by rewarding vouchers for every drug-free urine sample or negative breathalyzer result. These vouchers have a cash value and can be used to obtain different goods, services, and items. All 'buyable' rewards all follow the idea of a sober and healthy lifestyle. If a person continues to have negative test results, their voucher values will slowly continue to increase. Examples of some of these rewards include – 
Books

Gift cards

Electronics

Movie tickets

Food or clothing

Other services
Prize Incentives: These programs typically last 3-months or more (at least that is what's recommended). Every week, individuals will draw from a bowl for a crash prize. These prizes could range anywhere from simple words of wisdom to actual cash prizes (ranging from a few dollars to a hundred dollars). Treatment providers may also offer extra privileges to those who act healthily and positively. It is also worth mentioning that research suggests that these prize incentives do not encourage gambling behaviors. 
Both of these methods yield effective results in treatment retention and encouragement. In cases where a person does test positive for a urine test or breathalyzer test, these rewards would be withheld. This is used as a form of punishment in a way. A person can also have their voucher value lowered if this happens. Overall, these reward systems can have a big impact on a person's recovery and treatment motivation. 
Using Contingency Management with Other Treatment Types
As with almost all forms of therapy, contingency management is most effective when used with other therapy types. Additionally, contingency management alone is not enough to treat cases of drug addiction therapy, detox, and medication assistance are all necessary for beating addiction and reaching sobriety. Using contingency management with other behavioral therapies and treatment methods can make all the difference.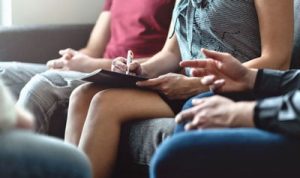 When it comes to addiction, several different types of therapy are used to help in the process. The main point of behavioral therapy like CM is to change a person's thought processes and motivations for the better. It can be a tough ride to overcome the effects of previous addiction, especially with highly addictive drugs. However, it is possible to overcome and live a brand new life free of addiction. 
At North Jersey Recovery Center we offer a number of comprehensive therapy and treatment options. Some of the methods we use for your personalized addiction treatment are:
Inpatient/Residential treatment

– Stay in a comfortable and distracting free environment where you can focus on recovery/treatment. With 24/7 support and surveillance, you are never alone in your journey. 

Outpatient Treatment

– During outpatient treatment, a person attends weekly therapy sessions while living at home. These are typically conducted in the evening or the week (to accommodate your schedule). This is recommended for those with responsibilities back at home and those with milder cases of addiction. 

Therapy

– As mentioned, CM is just one of many therapy options available at your fingertips. At NJRC we offer

cognitive-behavioral therapy

(CBT) and

dialectical-behavior therapy

(DBT). Both are used to change a person's thought processes and behaviors toward addiction. 
Start Your Journey Towards Recovery Today
Contingency management is just one of many treatment options we offer at North Jersey Recovery Center. Getting professional and quality help is just a phone call away. No matter how hard your addiction may be, it is never too late to turn things around. Let us help you start your journey towards a brighter future right now. Contact us today; we would love to answer any of your questions and provide more information on our treatment options.