Wanting to know what to expect as far as the cost of treatment goes is a normal concern. Information on the pricing of different treatment options can help you budget accordingly or find ways to pay for treatment. If you are wondering: how much does rehab cost, there are a few different factors that affect the price of addiction treatment.
What Determines the Cost of Drug Rehab?
Before we can answer the question: how much does rehab cost, we have to look at what influences the price of rehab. The cost of rehab for a drug or alcohol addiction is usually determined by a variety of factors, including:
Location

Facility type

Program size

Extra amenities

Services provided

Insurance coverage

The type of program
These factors can have a big influence on price. Especially if you require extra care or multiple types of treatment before you're ready to manage your sobriety on your own.
Location
The location of services often determines the cost. The cost of drug rehab varies from city to city and tends to increase in accordance with the cost of living and wages in these cities. For example, treatment at rehab in California might cost more than treatment at a rehab in a more rural and sparsely populated state.
Additionally, more scenic locations are often used to justify higher prices. For example, California's Pacific shores are considered to be more scenic than the plains of Kansas. So, how much drug rehab costs in California may be higher than how much it costs for treatment in Kansas.
Type of Facility
The type of facility also factors into the cost of rehab. Attending treatment at an inpatient-only facility will often be more expensive than at an outpatient facility. This is due to the amount of time you'll spend at the facility. Since inpatient programs require that you pay for food and lodging, the price will reflect that.
Program Size
The size of an addiction treatment program also determines rehab cost. Some treatment centers conduct smaller-scaled sessions to provide a more intimate rehabilitation experience. The amount of individual attention that patients are able to receive factors into the price of rehabilitation.
Treatment Provided
The treatment provided by a rehab may also influence the cost of treatment. If a patient requires detox before beginning an inpatient or outpatient program, treatment is going to cost more. If medication-assisted treatment is also necessary, that is an additional cost to consider.
Program Length
Rehab costs generally increase as the program length increases. For example, a 30-day program will cost less than a 90-day program. The overall cost of your treatment will likely reflect the length of your stay.
Amenities Offered
If you're attending rehab with amenities such as a gym, pool, on-site nature preserves, or sports facilities, the cost will be greater than that of a rehab that does not offer extra amenities. Usually, a rehab center with a large variety of amenities is exclusive to luxury treatment centers. These centers can feature amenities from private chefs to large individual rooms.
Insurance Coverage
Often, insurance providers will cover a certain amount of the costs associated with addiction treatment, but how much coverage you receive is dependent on your plan's unique language.
So, how much does rehab cost? Well, there isn't a single answer to this question because rehabilitation costs vary by location, amenities offered, and all of the other aforementioned factors.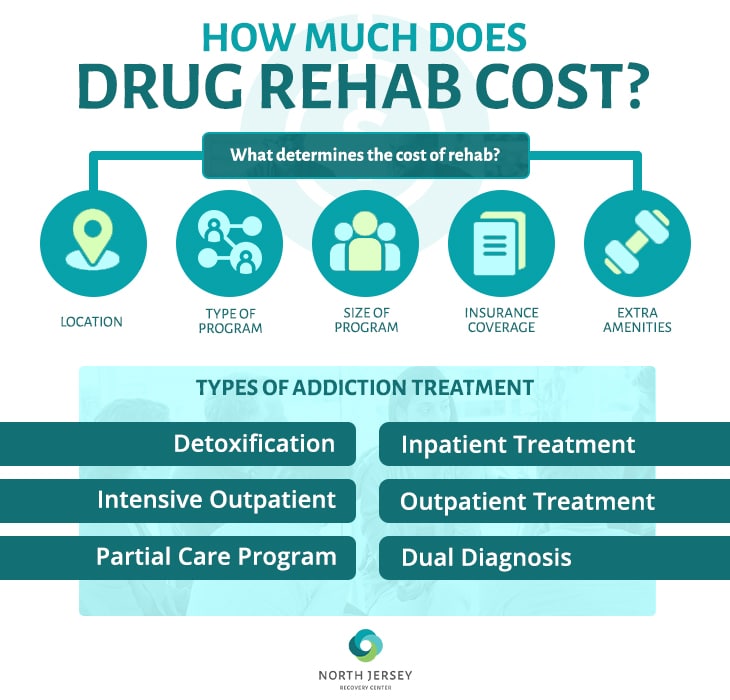 How Much Does Rehab Cost?
The type of treatment you receive is one of the biggest determiners for how much rehab costs. When it comes to answering the question, "how much does rehab cost", there isn't one answer. Every patient has different needs. Therefore, there is no set cost for treatment. An admissions specialist, however, is able to estimate the price of treatment once all of your needs are assessed.
Different Types of Treatment and Their Costs
Being treated for different types of addiction also influences the cost of rehab. This is because some addictions require more care than others. For example, patients that enter rehab for alcohol addiction treatment will likely require medical detox and medication to manage the dangerous effects of alcohol withdrawal. The treatment options we offer here at North Jersey Recovery Center and their general costs include the following:
Medication-Assisted Treatment
Detox treatment is reserved for patients who need to get substances out of their system before they begin a treatment program such as inpatient or outpatient care. Detoxification provides a safe place to detox from drugs or alcohol. Further, medical professionals are able to monitor patients and ensure that they do not experience any life-threatening complications from ceasing the use of drugs or alcohol.
Detox is also a way in which patients can avoid the more uncomfortable symptoms associated with stopping drug use. A treatment professional can help a patient wean off of drugs that have more severe withdrawal symptoms. However, the more monitoring a patient needs, the higher the cost of detox.
While you should certainly contact us to receive details and exact numbers regarding treatment at our facility, it may be helpful to know the average cost of such services. The average cost of detox is around $500 per day, although the price may vary depending on how long it takes to get the substance out of a patient's system. This makes for an average cost of about $1,500 total. However, medications administered will also factor into the final price of detox. 
Inpatient Treatment 
Inpatient treatment programs are what most people think of when they picture drug rehab. Generally, a patient enters a facility, checks in for at least 30 days, and does not leave until the program is finished. The average length of stay in an inpatient treatment center is around 21 to 30 days. However, the length of a stay may last as long as 90 days. 
During treatment, patients are offered a variety of therapies, support groups, and counseling. They will learn how to cope with cravings and how to avoid relapse. This type of treatment can cost anywhere from $12,000 to $60,000 per month.
The cost of this type of comprehensive treatment can vary greatly. The cost of inpatient treatment varies according to a number of factors. The length of stay is one of those factors. The longer a patient stays at a facility, the more expensive the program will be. The type of addiction, how long a patient has been addicted, and how severe the addiction are also factors that will determine the treatment administered and its cost.
Outpatient Treatment
Outpatient treatment programs are a more flexible treatment option for individuals who require addiction treatment. These programs do not require a patient to live at the treatment facility. Instead, patients attend outpatient therapy during the day and return home in the evening.
Outpatient treatment is often less expensive than inpatient care because it does not include room and board. These services include a variety of therapies, support groups, and counseling to help the addicted individual gain perspective on how to avoid relapse. Outpatient programs can cost around $5,000 a month. However, more intensive outpatient programs such as Intensive Outpatient Programs (IOP) or partial care programs can cost more.
Intensive Outpatient Programs
IOPs are typically recommended for patients who require more care than a traditional outpatient program can provide. Patients with a severe addiction or patients who require more hours in care than what is provided in traditional outpatient care usually attend an IOP. Additionally, these programs are also recommended for patients who have completed inpatient care and still need to continue treatment during the week. 
Similar to inpatient care and traditional outpatient care, an IOP here at North Jersey Recovery Center, helps patients overcome addiction through the following treatment modalities:
Group Therapy

Family Therapy

Support Groups

Individual Therapy

Dialectical Behavior Therapy

Cognitive Behavioral Therapy

Behavior Modification Therapy
IOPs usually require a patient to attend treatment a minimum of three days a week, for three hours of therapy per day. In the end, though, the amount of time spent in an IOP per week will depend on your unique needs. Treatment costs can range from $250-$350 per day.
Partial Care Program
A partial care program, also known as a partial hospitalization program (PHP), consists of treatment at a facility for five to seven hours per day, up to five days per week. Patients who require a more intense level of care than traditional outpatient programs yet have a sober environment to return home to benefit greatly from this type of program.
These programs are slightly more expensive than an IOP due to the increased amount of time spent in treatment. They can range from $350 per day to $450 per day.
Dual Diagnosis Treatment
Dual diagnosis treatment is the process of treating both addiction and a mental illness or disorder simultaneously. It is important to remember that individuals with co-occurring disorders require specialized treatment in order to get better. This type of program is necessary for those who suffer from mental illnesses such as:
Depression

Schizophrenia

Eating Disorder

Bipolar Disorder

Anxiety Disorder

Personality Disorder

Post Traumatic Stress Disorder (PTSD)

Obsessive-Compulsive Disorder (OCD)
Regardless of whether a mental illness is the cause of addiction or if it pushed you to turn to drugs or alcohol to cope, both disorders must be treated to ensure lasting sobriety. The cost of treatment will take into consideration the substance abuse program type (inpatient or otherwise), along with the additional treatment required for a co-occurring disorder.
Sober Living Homes
After treatment, some patients require a safe and sober place to live. This is where sober living homes come in. Sober living homes are like other forms of transitional housing and provide the following benefits:
A place to practice and refine basic life skills

Teaches patients how to manage a bank account and how to live without drugs

Reintegrates patients back into society with daily tasks like getting to work or school
While the length of stay in sober living homes varies greatly depending on several factors, most patients pay around $500 to $750 per month. This cost includes utilities such as electricity and water. Additionally, since most patients are able to work while living in a sober living home, they are able to cover the cost the same way they would cover rent.
Do Insurance Plans Cover Rehab Costs?
If you're wondering how much does rehab cost, you may also want to know if insurance covers addiction treatment. Luckily, most rehabilitation centers accept health insurance. However, the amount covered by insurance depends on the insurance plan and its details. The types of insurance plans that typically cover rehab include the following:
Medicaid

Medicare

Private insurance

Military Veterans insurance

State-financed health insurance
Here at North Jersey Recovery, we understand that cost shouldn't get in the way of treatment. That is why we accept a number of private insurance plans. Our facility in North Jersey accepts the following private insurance plans:
Aetna

Cigna

TRICARE

Empire Blue Cross Blue Shield

Horizon Blue Cross Blue Shield of New Jersey
How Much Does Rehab Cost Without Insurance?
Rehab generally costs more when you don't have insurance to cover the cost. Some plans, in addition, do not cover rehabilitation at all. However, there are still ways to pay for the medical services that your insurance provider doesn't cover such as through out-of-pocket payments. 
If you don't have insurance, how much does rehab cost becomes a more urgent question. Many people with a substance abuse disorder believe that they have to pay for rehab treatment completely out of their own pocket. While this may be true for some programs, there are a number of ways that people without health insurance can get into rehab. These options include:
Financing:

Financing allows patients to attend rehab now and pay later. Many rehab centers offer programs for patients who don't have insurance and can't afford to pay the entire fee at once. The cost of financing will depend on how much you borrow and how long it takes to repay the loan.

Sliding-scale payment options:

Sliding-scale payment options may be available at the treatment facility you choose. It may be helpful to ask how much of a discount your income qualifies you for before agreeing to pay anything at all.

Grants or scholarships:

Organizations such as SAMHSA (Substance Abuse and Mental Health Services Administration) allow people to apply for grants to fund their treatments.
Regardless of the cost, attending a rehabilitation program is essential to overcome addiction. Treatment may seem like a costly investment. However, the price of freedom from addiction cannot be measured. If you do not have insurance and want to attend treatment here at North Jersey Recovery Center, contact us to discuss the payment options that will afford you the treatment you need.
The Cost of Addiction Without Treatment
Now that we have answered the question of how much does rehab cost, you may be wondering if you can forgo treatment entirely. This is not recommended as addiction is a dangerous and expensive disease. The many effects of substance abuse and addiction are often costly and over time can cost you more than treatment would have.
Further, many substances cause various health issues over time. For example, prolonged alcohol abuse is connected to the development of different types of cancers. Rather than paying for addiction treatment once, a lifetime worth of cancer-related expenses can develop.
Additionally, many people who suffer from addiction may lose wages due to missing work. Consistently failing to show up to work can lead to termination. Concerningly, this can eventually cause one to become homeless if they are unable to secure employment again due to drug use.
Drug and Alcohol Addiction Treatment at North Jersey Recovery Center
The answer to the question: how much does rehab cost, shouldn't stop you from receiving treatment. Here at North Jersey Recovery Center, we offer different levels of care at different costs. Each program, despite the length or the amount of time in treatment required, is designed to provide you with the tools you need to overcome addiction.
If you have questions such as: how much does rehab cost? What treatment option is best for me? Or, how long should I attend treatment for? Contact our team today. We can walk you through our plans and pricing options to find the one that is right for you.