According to the 2018 Substance Abuse Overview by the New Jersey Drug and Alcohol Abuse Treatment, there were 89,629 substance use treatment admissions in New Jersey that year. Of the nearly 90,000 treatment admissions, about 32% were under the age of 30. So, needless to say, a New Jersey rehab center for young adults is an absolute necessity.
Unfortunately, young adults all throughout the state are suffering from the effects of excessive substance use. This only proves the true need for drug rehab services for young people in the area. Thankfully, our treatment center here at North Jersey Recovery Center (NJRC) is committed to offering young adults rehab. 
The Importance of Age-Geared Treatment Services
Since adults of every age group differ from one another, addiction affects them in different ways. This is true in the general sense and the specific sense. For example, substance use often impacts young adults differently than it does older individuals. 
The contributing factors for why a person develops a substance addiction may even differ based on a person's age. For example, a young adult may be more likely than a senior adult to succumb to peer pressure to use drugs and alcohol. Also, young men and women who are still developing cognitively and physically may feel the effects of substance use differently than older adults.
For all of these reasons, an age-centered or age-geared treatment center such as rehab centers for young adults is necessary. Young men and women who suffer from substance addictions should seek help from rehab facilities. 
The Addiction Treatment Process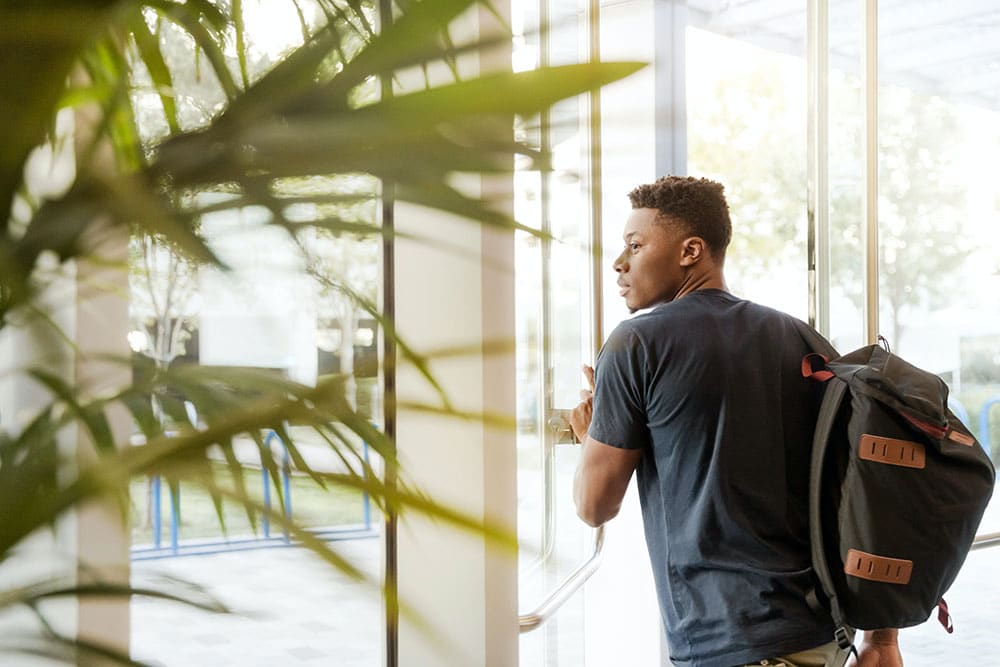 The addiction recovery journey is one that involves many challenges and obstacles. Some individuals in recovery may find that the underlying causes for their addictions may be difficult to address on their own. Such individuals may even recognize their challenges in avoiding relapse.
A treatment center should empower adults in recovery. It should give adults the necessary resources to both become and remain free from addiction. An addiction treatment center should also equip recovering adults with relapse prevention skills. A treatment center should even instill confidence in adults in recovery that need to move forward in life.
This is where our levels of care here at North Jersey Recovery Center come into play. Here at our facility, we work to help each of our individual patients. We do this by providing them with our continuum of care. We believe the individuals who come to us for treatment for young adults will benefit from our various levels of care. This is especially true when each of our levels of care is complete with effective treatment approaches. 
Through our different inpatient and outpatient addiction treatment programs, our patients in recovery can begin to develop the skills that they need to create a better, new way of living for themselves. Whether an individual is struggling with an alcohol use disorder, heroin abuse, a benzo addiction, or some other type of substance use disorder, NJRC has the necessary programs and services to assist that person!
Inpatient Treatment Program
While we do not offer inpatient (residential) drug rehab programs, we believe it is important for patients to understand what this type of treatment involves. Residential programs take an intensive approach to rehab. 
Young adults in rehab may find that their roommates or friends are not supportive of their decision to end substance use. This can cause such young adults who are seeking treatment for addiction to receive peer pressure to continue using drugs. This, in turn, may prevent young adults from going through with their choices to seek help for addiction at drug rehab facilities.
When young people receive treatment for substance addictions and don't have support groups at home or are surrounded by tempting or unhealthy influences, inpatient/residential rehab is the best option. While in a residential treatment center for young adults, each patient lives in a rehab facility 24/7 during the time that he or she is receiving care. 
One's fellow patients basically become that person's family members and friends. Inpatient care members that do contain close family members while attending inpatient rehab can receive intensive family therapy. 
An inpatient or residential treatment center for young adults can also be very beneficial. This is because it allows young adults with substance addictions to focus simply on their recovery rather than outside influences. Furthermore, a residential rehab center for young adults provides people with round-the-clock access to clinical and professional addiction treatment. This is especially helpful in early recovery.
Outpatient Treatment Program
After completing inpatient treatment, a young adult in recovery may transition into an outpatient rehab for young adults. So, recovering individuals can continue to receive treatment and care on a less intensive basis. 
Young adults in an outpatient drug rehab program will attend addiction treatment programs for a certain amount of hours every week as determined by their rehab center specialists. While in outpatient care for addiction recovery, people can attend specialized therapy and group meetings. 
Individuals attending outpatient rehab for young adults may also live in sober living environments or continue living in their own homes. If a young adult is likely to be in an atmosphere that isn't conducive to his or her recovery while receiving outpatient treatment, it is not advisable for that person to live at home. 
There are multiple types of outpatient care. These include partial care programs and intensive outpatient programs (IOPs) along with standard outpatient rehab. Both partial care programs and intensive outpatient programs allow individuals to receive treatment while living outside of rehab facilities. 
Such outpatient programs can be a good option for adults who may still need to work or tend to family responsibilities while attending rehab. Outpatient care is also helpful to adults who are working to transition back into a normal schedule after going through residential treatment for addiction. Young people with daily life responsibilities can benefit from receiving outpatient care here at North Jersey Recovery Center. 
Dual Diagnosis Treatment
Young adults who suffer from dual diagnoses suffer from substance use and mental health disorders. Some of the common mental health disorders that co-occur with addiction include the following:
Adults who have co-occurring disorders have what professionals refer to as dual diagnoses. Suffering from dual diagnoses can be difficult. With professional help though, a young adult can overcome addiction while also overcoming a dual/co-occurring mental illness.
It's important for people who suffer from co-occurring disorders to seek dual diagnosis treatment for substance use and mental health disorders. This is because rehab for young adults that solely addresses addiction allows the mental illnesses of young adults to linger. As a result, the lingering mental illnesses will trigger the individuals' desire to use substances again.  
In some cases, the symptoms of mental health disorders are actually contributing factors to addiction. So, if individuals don't receive the help that they need in order to address those symptoms and triggers, they may relapse or develop other substance addictions.
Likewise, a treatment program that only addresses mental health disorders without dealing with their co-occurring addictions will prove to be ineffective. Young individuals that partake in such mental health treatment programs may be able to address and manage their symptoms. They may still continue to use alcohol or drugs though. 
Finding a rehab center for young adults that offers a dual diagnosis treatment program is essential for those who suffer from co-occurring disorders. Thankfully, we offer a variety of rehab for young adults, including those for people with substance use disorders and mental illnesses. 
Therapy for Addiction Recovery
Therapy is often a part of the young adult rehab treatment process. This is because therapy sessions offer an abundance of benefits for people in recovery. There are several types of addiction therapies, each falling under the categories of group counseling and individual counseling.
Different types of therapies that may be involved in rehab for young adults may include:
Group counseling sessions typically consist of several recovering individuals and one or more therapists. While in group therapy meetings, individuals can discuss their stories, struggles, and victories with one another. 
Therapy that takes place in group settings can help individuals in rehab for young adults to develop interpersonal skills which are often lost due to addiction. Also, group counseling can inspire support within the addiction recovery community. Young people who are working to end addiction can unite with others and help one another overcome feelings of loneliness and isolation.
Individual therapy is also beneficial as meetings consist of one recovering individual and one therapist or counselor. This one-on-one format allows young people to feel free to share their thoughts, emotions, and feelings without the fear of judgment. Individual therapy also provides young adults with time to discover and address any underlying issues and causes for their addictions.
Rehab for Young Adults at NJRC
If you are a young adult who is suffering from addiction, now is the time to seek help. Here at NJRC, we know that it can be overwhelming to seek out treatment for addiction. Some adults even experience anxiety at the mere thought of asking for assistance when it comes to treating their substance use disorders. Others may feel anxious because they are afraid that they will be met with judgment rather than understanding or compassion. 
It's important to remember though that if you've been struggling with alcoholism or drug dependence, there is no time like the present to begin recovering. The truth of the matter is that addiction can be life-altering and, in many cases, life-threatening. 
Those who suffer from excessive substance use may even find that the effects of this issue are irreversible. This can especially be the case in the life of a young adult who suffers from substance use. 
Receive Addiction Treatment Today!
Even if the effects of their substance abuse aren't irreversible, many young people who suffer from addiction may find that the impact of years of alcohol or drug abuse can cause much suffering in their older years. But this does not have to be your story.
At a drug rehab center for young adults such as North Jersey Recovery Center, young individuals can receive addiction treatment that will best suit their needs. We here at NJRC are dedicated to the health and freedom of our patients. 
We understand the challenges that a young adult can face on the road to recovery. So, we assist each individual patient, including the young ones, as he or she works through his or her difficulties.
When you enroll in our treatment program here at NJRC, you can rest assured that your recovery is our top priority. Our compassionate team will work with you as you move toward a life of recovery. We want to walk with you from the very beginning of your treatments until you complete your rehab for young adults and begin your new life. 
Today can be the day that changes your life for the better. Just call us today here at North Jersey Recovery Center if you are a young adult in need of addiction treatment. Allow our rehab for young adults to help you end addiction in your life!