Rehab for Alcohol in NJ: What To Expect  
Choosing a rehab for alcohol in NJ can be overwhelming. It can be even more so without understanding what an alcohol rehab center is in the first place. The truth is that the best drug rehab centers in NJ mean something different for each person struggling with an alcohol use disorder. Of course, this brings about more questions. But, the more informed an individual is before they choose an alcohol treatment center, the more it will help them in the long term.  
Many who have completed rehab consider it one of the most valuable times and experiences of their life. Before attending, individuals may have many questions and concerns. Do they really need this? Will it work? Alcohol addiction treatment can ease alcohol withdrawal symptoms tenfold. The earlier people start their recovery process, the better it is for both mental and physical health. 
FAQs for Rehab for Alcohol in NJ 
What is a Rehab for Alcohol? 
A rehab for alcohol is a treatment center that helps individuals overcome an alcohol addiction and maintain sobriety after leaving. The same can be said for any rehab for alcohol, like North Jersey Recovery Center. While there are many different types of addiction treatment programs within addiction treatment centers, most typically start with medical detox. 
A detox in NJ for alcoholism allows clients to go through alcohol withdrawal in a safe environment. An alcohol withdrawal can be deadly without the right precautions. This is because both the body and mind become addicted to this substance. As a result, this can manifest as alcohol withdrawal symptoms that range from seizures to depression. After detox, individuals at a rehab for alcohol in NJ will work on the skills they need to maintain sobriety. 
Drug rehab treatment facilities that specialize in alcoholism will likely have a series of addiction treatment programs. Each program may suit one individual more than another. Here at North Jersey Recovery Center, we offer a variety of therapy programs to help improve substance abuse and mental health. Some types of therapy for alcoholism at a rehab include: 
Along with therapy, alcohol rehabs offer support from both the treatment team and like-minded peers within such rehab centers. Each treatment plan is personalized per patient, so it will likely vary from person to person. Alcohol rehabs may also offer certain medications during detox and treatment to help individuals have the best chance at lasting sobriety. In order to narrow down the best rehab centers in NJ for you, it's crucial to know what you want from an alcohol treatment center. 
What are the Types of Rehab for Alcohol?
There are two main types of rehab in regard to alcohol addiction treatment. They are inpatient and outpatient programs. There are several rehab programs that make up outpatient and inpatient rehab. 
Inpatient Rehab for Alcohol Abuse 
There are two types of inpatient rehab for addiction. One is standard inpatient treatment and the other is residential treatment. Each offers its own benefits. However, both of them require patients to live at the facility. Knowing the difference between the two can help you decide which one to choose. 
Standard inpatient treatment is structured and rigorous. It's one of the most intense forms of substance abuse treatment. Hence, it's most appropriate for those with severe alcohol addictions, especially if treatment has failed in the past. There is usually a set timeline for standard inpatient programs for alcohol. 
On the other hand, residential treatment is less structured and may not have a set timeline. As the recovery process isn't the same for everyone, residential treatment can be a great option for those who can afford it. People involved in residential treatment programs will have more free time and will likely engage in more holistic therapies in a program like this. 
Outpatient Rehab for Alcohol Abuse 
Not everyone can live at a treatment facility during their recovery process. Also, they may not be able to afford it. This is where outpatient rehab for alcohol can help. Those who need treatment, but can't live at a facility should look into outpatient rehab programs. There are various levels of outpatient treatment programs that differ in intensity and time commitment. They include: 
Standard outpatient program (OP) 
A partial hospitalization program requires the most time commitment. Patients in a partial hospitalization program will dedicate approximately five days a week for several hours a day to treatment. An intensive outpatient program is a step down from a PHP in terms of time commitment. Individuals will spend several hours a few days a week on treatment. Finally, standard outpatient programs are the least intense. OPs only require a few hours a week a couple of days a week to treatment. 
What are the Benefits of Alcohol Addiction Treatment?
Considering NJ rehabilitation for alcoholism? If so, you've made the right decision. If you're still wary about attending rehab for alcohol in NJ, think about all the benefits of rehabilitation: 
Lessens the chance of relapse 

Medical support from treatment providers 

Peer support during treatment and likely after 

Exposure to multiple rehab programs 

Help to overcome an addiction from start to finish 

A personalized treatment plan to improve chances of long term sobriety 
Checking Into Rehab for Alcoholism 
Once a person has decided on rehab for alcohol in NJ, they might wonder about what checking into a rehab involves. Firstly, an intake team will see if they are right for their alcohol rehab. This includes verifying that their insurance provider is in-network and what coverage it provides. If a patient doesn't have an insurance provider, the rehab will likely provide other payment options. After a series of questions, they might conduct blood work to establish if the prospective patient has any physical or mental illnesses. 
After this, checking into rehab involves agreeing to the rules and conditions of the recovery center. Each facility will have a different set of rules that may range from random drug tests to what a patient can wear while attending. It's always best to check with the facility instead of making assumptions about the rules.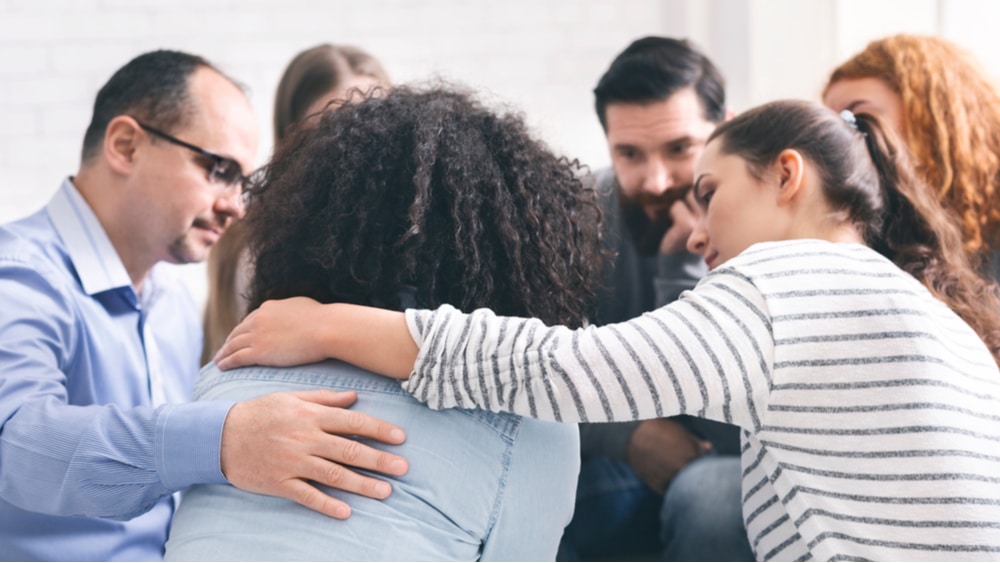 Dual Diagnosis Treatment for Alcoholism 
Many alcohol rehabs in NJ will also establish whether or not an individual has a dual diagnosis when checking in. A dual diagnosis is when someone has two or more medical disorders at the same time. Another name for this is co-occurring disorders.
According to the National Institute of Alcohol Abuse and Alcoholism (NIAAA), co-occurring disorders are common among those with alcohol dependence. NIAAA states that major depressive disorder and general anxiety disorder plague those with alcohol dependence the most. When a person checks into rehab, the intake team will determine if the person needs a treatment plan for a co-occurring mental health disorder. 
Importance of Dual Diagnosis Treatment 
Approximately 50% of those struggling with alcohol and addiction have an underlying psychiatric disorder. Unfortunately, many of those are left untreated.  People may have started drinking to cope with feelings of anxiety, depression, or past traumas. Assessing an alcoholic for underlying psychiatric disorders may take time to ensure complete removal of the effects of alcohol use.
During the active phase of an alcohol use disorder, it's challenging to obtain treatment for any underlying mental health issues. When entering treatment, assessment for any underlying mental illness is imperative. Treatment of both alcoholism and any other illnesses will improve the success rate of both treatments.
Programs at North Jersey Recovery Center for Alcoholism 
Those considering a treatment program may have found several options. Depending on their amount of alcohol intake, physical condition, co-existing conditions, and other factors, an inpatient rehab center may be their best option. Yet, we also offer PHPs and IOPs for those who can't attend inpatient treatment.  
Those who opt for inpatient treatment will have a room similar to a hotel room and will attend the different parts of their customized treatment program each day. They may graduate to our sober living house before returning to their previous living situation. The duration of treatment can vary for each individual.
Some people stay 28 days, while others may stay for three months or longer. Once patients leave our inpatient rehab, they will continue to work on their addiction each day. Here at North Jersey Recovery Center, we provide the tools and strategies that are proven to maintain sobriety. We teach these skills through our various therapy programs, including the ones we offer through our dual diagnosis treatment program. We commonly treat individuals from the following areas: 
Substance abuse has already taken enough from individuals struggling with alcoholism in New Jersey. Don't wait for the added cost of a car accident, job loss, or hospital visit from an alcohol-related injury. We have a dedicated team of financial professionals who can provide free insurance verification for our patients. We can provide treatment options for each budget.
Understanding Alcoholism
Alcohol is a dangerous substance since it's as readily available as food in most cases. Unlike an illegal substance or a prescription medication, possessing alcohol alone is not concerning. It's the consistent use and behaviors around its use that identify it as problematic. Alcoholism affects everyone and everything around the person struggling with the addiction.
Friends or loved ones may explain away the problematic behaviors that occur. Other people may begin to clean up the issues that you may be causing. This can create a damaging dynamic of enabling and removing consequences from ever reaching the person struggling with alcoholism. The more immersive, intensive, and supportive the treatment environment is, the higher the success rate overall.
An alcohol rehab center is generally considered more successful for those struggling with alcoholism than any other form of rehab. If you have been abusing alcohol for a long time or consume a significant amount of alcohol, an inpatient stay may be recommended for your safety and the best chances of long-term sobriety.
Effects of Alcohol Addiction
Significant alcohol use results in mental, physical, financial, and social damage. Personal and professional relationships begin to fracture and slip away. Lying and secretive behavior may become commonplace. Individuals struggling with alcohol misuse may find themselves telling more and more lies to cover up increasingly complicated scenarios to continue drinking or covering up problematic behaviors.
They may also find themselves criticizing others or becoming angry at small things before drinking. Friends and family members may be able to predict an alcoholic's moods depending on the time of day and when they begin to drink. They may be happy during happy hour, but may become irritable or sullen, and depressed as they drink more.
The effects of alcohol can change as individuals continue to drink. Increasing amounts of alcohol can:
Negatively affect energy levels

Slow down reflexes

Create a depressive-like mental state

Contribute to skin aging

Decrease liver and kidney health

Increase blood pressure

Increase the risk of heart disease

Can increase health issues related to the ears
Alcohol is also a significant contributor to accidents both in the home and outside. Motor vehicle accidents are also highly linked to alcohol intake. Every day someone is killed by someone else driving while drinking.
Invest In a Sober Future at North Jersey Center for Recovery 
The National Institute on Alcohol Abuse and Alcoholism estimates that only about 8% of people with alcoholism receive treatment each year. Recognizing an issue is the first step towards a healthy life. Once you have told yourself the truth, now what?
Finding a professional treatment team to provide the help and guidance you deserve is a positive first step. Treating alcohol misuse and addiction can utilize a lot of different treatment methods. Luckily, our facility offers programs to suit each person who walks through our doors. 
We want to help all those struggling with alcohol abuse to find a peaceful and stable sober life. We understand that taking the next step in the recovery process seems scary. The treatment programs at North Jersey Recovery Center are attended by other alcoholics searching for help and hope. We understand alcoholism and the many issues that can accompany alcohol abuse. Give us a call today to make a step to invest in a healthier future.